The surprise and enthusiasm of a few people about the "magic copy" feature I mentioned briefly at the end of my previous post introducing time bubbles reminded me that we forgot to introduce this feature when it landed for Instantbird 0.2 as part of our implementation of the Adium message theme system.
We decided to use this theme system because it seemed nice overall and was already used by a few other clients as well. However there was something we really didn't like: using a customized message theme could make copied data from the conversation really hard to read, to the point that it would be unsuitable for sending a quote via email.
As this may not be very clear yet, let me give an example: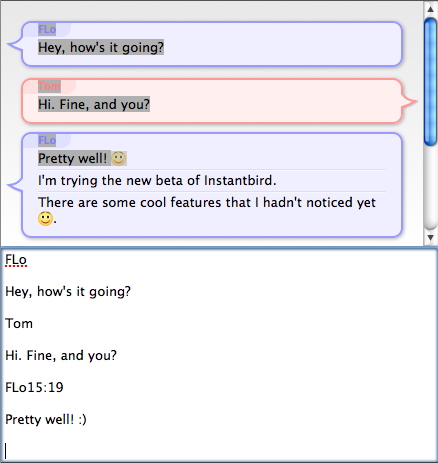 This is the text we get when copying the selection to the clipboard and pasting it. This is without our "magic copy" feature of course.