Instantbird 0.2 was released with Bubbles as its default message theme: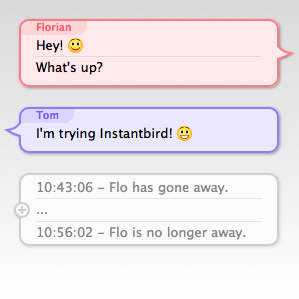 The most common feedback we received from users that quickly switched back to Simple (the previous default) or another theme was that the lack of timestamp for each message made the theme unusable.
Some users have really passionate opinions about whether these timestamps should be shown or not. On one hand, people think it's a useful piece of information that should always be visible, but on the other hand, people think it's a waste of space on their limited screens. The common "solution" to this problem is to include a "show timestamp" preference, allowing each user to decide for themselves which of the two behaviors is the least inconvenient.
I don't think that making the user responsible for choosing between two not-so-good options which one is best is a good way to address this issue. So soon after the 0.2 release, I started searching for better solutions.